Journal Entry:
Sun Aug 12, 2012, 9:24 PM
Today I went and picked up Becky's engagement ring at the jewelers. I have reservations set at a wonderful restaurant in Denver. I am not sure if she suspects anything, but I think she knows. She is in California visiting family, so it gave me a chance to get everything prepared for my asking her to marry me. I am so nervous, and am getting more jittery as the big night approaches. I have gone over and over the plans to ask her. One plan has me asking her in the car, before we go in to eat, and another has me asking her before the meal, another after. One plan is to take her on a walk after dinner and when the time is right to stop and get down on one knee and ask her. If any of you have a good idea, now is a good time to let me know. The dinner and her birthday are next week. I am leaning towards asking her after dinner. I am just so nervous I can't think straight. Everyone keep your fingers crossed for me and hope she says yes. I will fill you in on how it went in my next journal...
My continued prayers to my friends Katti, Lil, Chas, Chelsea, Dawn, Linda Jayne, Tammara, Selina, and Shell

To my friends and watchers I wish you a wonderful and prosperous week ahead...

MUSIC VIDEO OF THE WEEK
BOOK OF THE MONTH-MOVIE OF THE WEEK
THE AWARD OF EXCELLENCE FOR JULY
THE WEEK IN REVIEW
:thumb319542735:
IN THE SPOTLIGHT

INTRODUCING ELENA

POETRY CORNER
THE JUNK DRAWER
Create your own visitor map!
She is a bringer of riches and wealth.
She lives in forests of oak and lime trees.
She is only seen in the enchanted moment between sleep and waking.
She decorates herself with leaves and berries. She has gentle green wings like a butterfly.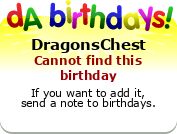 MY BOOKS
Listening to: Josh Groban
Reading: The Pantomime Life Of Joseph Grimaldi
Watching: Must Love Dogs
Playing: MLB The Show
Eating: Pizza
Drinking: Beer

Watch