Journal Entry:
Sun Nov 4, 2012, 8:33 PM
Let me start this off by saying that I love nudity. I especially love female nudity. I think that there is probably no better art form than the female body. I befriend dozens of nude models and photographers of nude models here in dA. I believe that there is a line; however, to where nudity (especially here in dA) can be used for purposes other than art. I don't think that pictures that border on the pornographic have any place here in this community. Some argue that you can interpret what is and isn't an art form, but who is to say what is right and wrong? I always reply that I can walk up and slap someone in the face and blame the act on it being art. I still think the person being slapped is going to vehemently disagree. Let me show you a few photos from the community that are what I think is artistic nudes.
It is just my opinion, but the above set of pictures are what I consider artistic nudes. Now the below set of pictures should demonstrate what I am talking about when it comes to pictures that stop being artistic and border on the pornographic.
It is baffling to me how deviantART allows children to be a part of this community, and will allow the slimy works you see here. I know there is a bloody parental guidance button or setting, but not all children are dumb and they can find out how to get past it. I just think it is disgusting that they allow some of the stuff that they do. This is the big reason that I haven't let either of my daughters have an account here yet. I wish deviantART would strengthen its standards and get rid of pictures that are not art and just plain pornographic or sexual in nature.
Just yesterday I had to chastise a new deviant for using a nude picture for an avatar! I turned them in to deviantART and the avatar was changed. I would like to finish by saying sorry to my younger watchers, and I hope you have your parental settings on

I promise not to post nudes on my front page any more. Just wanted to make a point...
My continued prayers to my friends Lil, Chas, Linda Jayne, Tammara, Thelma, Candy, and Shell

To my friends and watchers I wish you a wonderful and prosperous week ahead...

MUSIC VIDEO OF THE WEEK
BOOK OF THE MONTH-MOVIE OF THE WEEK
THE AWARD OF EXCELLENCE FOR OCTOBER
THE WEEK IN REVIEW
:thumb335065947:
:thumb334945310:
IN THE SPOTLIGHT

INTRODUCING SERENA

POETRY CORNER
THE JUNK DRAWER
Create your own visitor map!
She is a bringer of riches and wealth.
She lives in forests of oak and lime trees.
She is only seen in the enchanted moment between sleep and waking.
She decorates herself with leaves and berries. She has gentle green wings like a butterfly.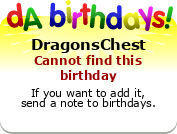 MY BOOKS
Mood: Disbelief
Listening to: Mediaeval Baebes
Reading: The Words We Live By
Watching: Cinderella Man
Playing: Madden NFL
Eating: Pizza
Drinking: Diet Root Beer

Watch