Journal Entry:
Sun Jun 3, 2012, 10:27 PM
My oldest daughter Alia is going to turn 13 years old in a few months. I always tell her how proud I am of her, and what an exciting time it is for her to become a teenager. She overheard me talking to my girlfriend Becky about how they are growing up so fast, and how I want to make sure I am as perfect a father as I can be. I don't want to look back and regret not having done the right thing by them. The other night, I was working in my home office, and Alia knocked on the door. She asked if she could read something to me. I dimmed my computer and went with her into the den where we could talk. This is what she read me...
WHEN YOU THOUGHT I WASN'T LOOKING by Alia Rogers
When you thought I wasn't looking, I saw you rock me when I was tired,
and I knew you loved me.
When you thought I wasn't looking, I watched you till I fell asleep,
and I loved you from that moment on.
When you thought I wasn't looking, I saw you laughing at my dumb jokes,
and I knew you didn't want to hurt my feelings.
When you thought I wasn't looking, I was watching you dad,
and I want to thank you for all the things you have done for me,
when you thought I wasn't looking...
Needless to say, just like right now, I had tears falling down my cheek, and really didn't know what to say to her but that I love her so much and that I am the luckiest dad in the world. My little girl is becoming a young lady, and I will worry some, but also can see how she is a chip off the old block.

I am going to have her poem framed, and hang it on my office wall where I can be reminded that for as much love that I give, I get it back ten fold.

My continued prayers to my friends Katti, Lil, Chas, Chelsea, Dawn, and Shell

To my friends and watchers I wish you a wonderful and prosperous week ahead...

MUSIC VIDEO OF THE WEEK
BOOK OF THE MONTH-MOVIE OF THE WEEK
THE AWARD OF EXCELLENCE FOR MAY
THE WEEK IN REVIEW
:thumb305263817:
:thumb305786629:
IN THE SPOTLIGHT

INTRODUCING DAVID

POETRY CORNER
THE JUNK DRAWER
Create your own visitor map!
She is a bringer of riches and wealth.
She lives in forests of oak and lime trees.
She is only seen in the enchanted moment between sleep and waking.
She decorates herself with leaves and berries. She has gentle green wings like a butterfly.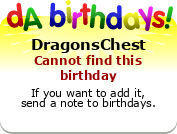 MY BOOKS
Listening to: Michael Ball
Reading: The Secret Supper
Watching: Dirty Harry
Playing: MLB The Show
Eating: Bratwurst
Drinking: Diet Soda

Watch